Survival Tips: What to Be Prepared For
If you plan on surviving a catastrophic event, you need to have an action plan in place. That is where survival training comes into play. You need to be prepared for an event before it happens to avoid becoming a casualty. While the scenario itself can vary, such as an earthquake, asteroid strike or even a terrorist attack, the survival supplies and training you need are going to be the same.
No Electricity?
If the grid goes down and you are in a home that has a backup generator, you need to be cautious. Take action by installing blackout screens and opaque curtains for your windows. That way, you aren't a beacon of light for criminals to come and loot. Since you may have time to plan ahead, the best generator for you to obtain will be a tri-fuel model. When you run into times when you can get away with having little to no light, save the bulk of your power and use a tool that can run off of nickel metal hydride batteries…. and speaking of batteries, you can learn how to recondition any battery by watching the video below. This will be a very important skill to add to your survival training- just Click Here or the image below to see a video explaining how it works.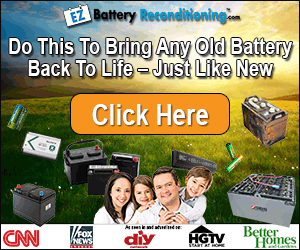 Start Getting Used to the Wilderness
It will be critical that you get accustomed to surviving in the woods. You need to understand that once chaos and destruction occur, you won't be able to walk down to the corner supermarket for food or turn on the faucet and drink the water.
Shelter Resources 
In some cases, your home may be destroyed and you need to learn how to create a shelter with nothing more than items you can collect. Spending time in the outdoors at least once each season will do wonders for your wilderness training. You can find detailed information in our Finding Shelter in the Wilderness Post . These survival training skills will give you experience you will need to gather food and build shelter for your family…. and increase your chances of survival.
Food Sources aren't going to be Easy to Find
Don't be like the millions of unprepared people who find that waiting until disaster strikes is when you run down to the store for food. Being prepared means learning how to store food in your house such as using canning equipment and drying fruits . Make a list of the necessities you keep in your pantry and freezer like spices, vinegar, yeast, baking soda, meats, frozen veggies,etc.; and then keep enough on hand to last you for 2 months if possible. A good idea will be to have at least 100 gallons of fresh water on hand at all times. You can begin buying it at local stores and rotate it out. Most drinking water is good for at least a year, so ensure you have a fresh selection you can rely on.
What General Supplies Should You Have
While protection, food, and water are all needed; there are other items you should be aware of to help you survive. Make sure you have as many of them on hand as possible. For example:
Toiletries
Advanced First Aid Kit
Batteries
Fuel
Camouflaged Clothing
Dosimeter
Rate Meter
TP
Water Treatment
Hunting and Fishing Supplies
Basic Tools
Pocket Knife with Utensils
You need to understand that your survival training is something to take seriously. Make sure you keep up with it and start living a healthier lifestyle now so you are physically prepared should the time come that you need to be in "survival shape". It is important to be free of diseases, while maintaining your physical and oral health. When a catastrophic disaster hits, you'll need all the health and strength you can be cultivating now, to get you through.